You might be a vlogger or just interested in creating video content, having great music can strengthen the feeling you want to transmit in your videos and can induce certain emotions.
Finding free royalty free music for your online YouTube videos can be difficult. As a video creator, you want the perfect soundtrack for your video masterpieces, but at the same time, you also want to make sure that you don't break any copyright laws. After all, there's nothing more frustrating than working hard on a video only to have YouTube take it down because of a music copyright violation.
Luckily there are a number of websites that allow you to download free royalty free music to use in your projects.
Note: Always check the license attributed to any royalty free music file which you want to download and use in your project.
Top 10 Free Royalty Free Music Sites For Video Creator
Following are the best free royalty free music downloading sites. Whatever is your project, personal or commercial, use music tracks freely.
Royalty Free Music by Bensound
Bensound is a searchable database that features the work of French musician Benjamin TISSOT also knows as Bensound. He has worked as a composer for over ten years, with his work being used in corporate videos, commercials, short films, and documentaries.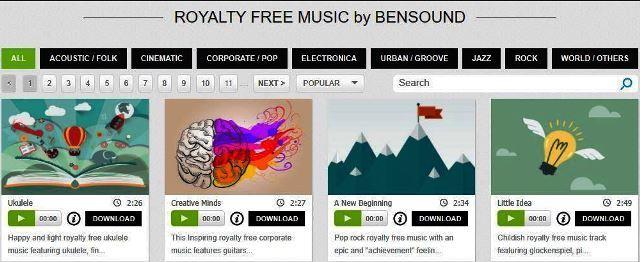 All of the music found on the website is under the Creative Commons license. This means that you can use the music in any multimedia project, provided you give credit to the website. In addition to the standard license, users can opt to pay for a "Pro" license which gives users rights to exclusive tracks and allows the music to be used without attribution. Link: https://www.bensound.com/
Unminus: Free Music Download for Your Projects
Unminus was formerly known as WoWa. Unminus has only a limited number of tracks on the website. They vary in style, and you can download all of them for free. All of the tracks come with a Creative Commons Zero (CC0) license.
CC0 license lets you use any work for free, in personal or commercial causes, edit it as you see fit, and without attribution. You no need to take permission or give credits to Unminus for using their royalty free music. Link: https://www.unminus.com/
Icons8 Music: Free Music for Your Videos
Icons8 is a well-known resource for free stock icons and photos, and they now also offer a great selection of royalty free music and audio tracks. Each track can be downloaded as a free high-quality MP3, or you can pay to unlock the WAV file. Tracks are free for personal use and also free for commercial use, but require linking to the Icon8 website. Alternatively, you could buy a license that doesn't require any linking. Link: https://icons8.com/music
CCHound: 100% Free, Quality CC Audio
CCHound is a curated library of free music for content creators. You can browse by tags, genres, or search for something. Each song is marked whether you can use it with attribution or not. Link: https://cchound.com/
Free Music Archive (FMA)
Free Music Archive is an archive of free music where online users can download any of the tracks at no charge. There are a ton of tracks available, all organized into a variety of different genres. Please note what you're allowed to do with these tracks will vary since each artist or rights-holder has the final say in how the tracks can be used. FMA also has a premium service for music tracks. Link: https://freemusicarchive.org/
Moby Gratis: Free Moby Music for Filmmakers
Moby Gratis is the brainchild of famous electronica musician Moby. The Moby Gratis site is a resource for independent filmmakers or anyone in need of music for a non-profit project. Users can download and use over 200 tracks from Moby's own extensive catalog of music.
Link: https://mobygratis.com/
Incompetech: Royalty Free Music
Incompetech site was created by composer Kevin MacLeod and has tons of music, categorized by genre and feel. All of the music found on the website is under the Creative Commons license. This means that you can use the music in any multimedia project, provided you credit the website. Paid Standard License is available for projects where attribution is not wanted or is otherwise impossible. Link: https://incompetech.com/music/
DanoSongs: Royalty Free Music
Dan-O is a composer that offers his original songs for free download at DanoSongs.com. You can use his songs for free in your project provided you link to his site or credit him in your video. He also begs a few dollars for a free license. Link: https://danosongs.com/
StoryBlocks Audio: 100% Royalty-Free Music
StoryBlocks Audio formerly known as Audioblocks is home to over 100,000 different audio tracks. The tracks available are 100% royalty-free and can be used in personal or commercial projects. Furthermore, there are no download caps, meaning users can download as much as they want. StoryBlocks also has a premium subscription service.
Link: https://www.storyblocks.com/audio/music/
Other Royalty Free Music Sites Worth Your Consideration
ccMixter is a community music site where you can find tons of music that falls under the Creative Commons license.
FreeSoundtrackMusic.com provides exactly what it advertises – royalty-free tracks for use in films, YouTube videos, games, or other multimedia productions.
Musopen is another free site that, like Public Domain 4U, provides music that has the copyright expired.